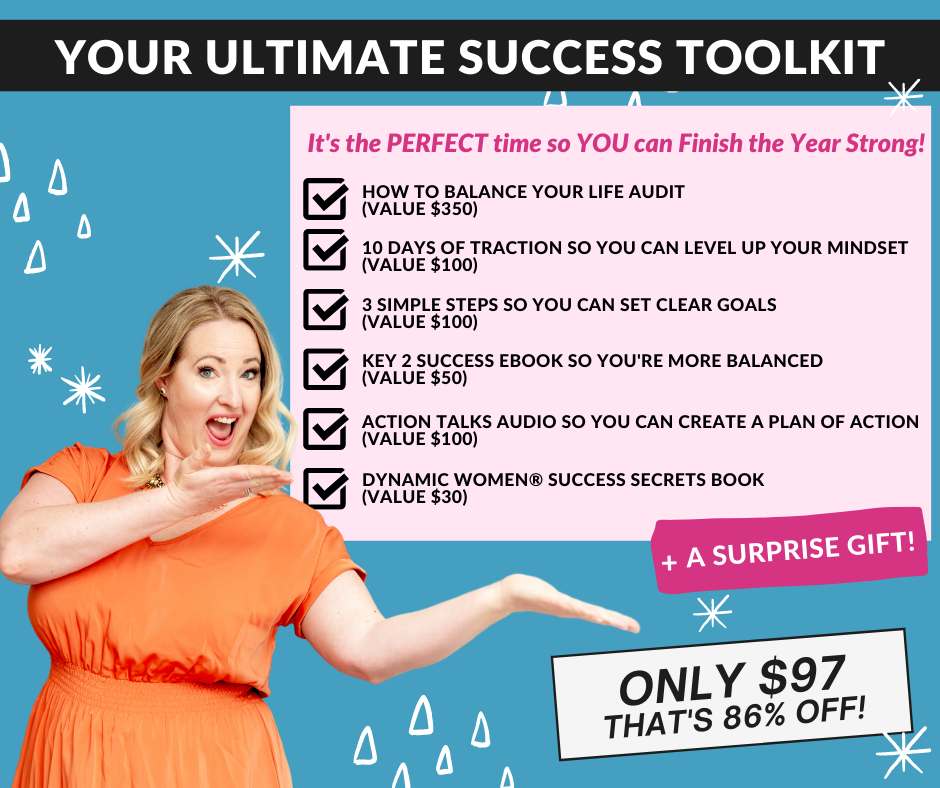 This is the perfect time to get clarity, planning, and strategy for your life and business. This package has a little bit of all of it for your ultimate success.
Think of this toolkit a little bit like a training plan. Have you ever had a fitness trainer or been coached in sports? You know that all coaches and trainers begin with some fundamentals, then move on to more specialized drills. This toolkit has been designed to give you mindset fundamentals that are essential for getting off the treadmill of 'wants with no results' and then drill down on getting clear and taking action.
Here is everything you get for the one low investment!

✔ 1:1 How to Balance Your Life Audit (Value $350)


✔

10 Days of Traction so you can level up your Mindset (Value $100)


✔

3 Simple Steps so you can set clear Goals (Value $100)


✔

Key 2 Success ebook so you're more balanced (Value $50)


✔

Action Talks Audio so you can create a plan of action (Value $100)


✔

   Dynamic Women
®
 Success Secrets Book (Value $30)
++ A SURPRISE GIFT!
Join now to get ahead 
& be excited about reaching your goals!
CEO & Founder of Dynamic Women™
Diane Rolston
As an Award-Winning Coach, Speaker, and the CEO of Dynamic Women® Global Club, Diane Rolston has been called THE expert on being Dynamic. She is a behind-the-scenes advisor and coach for many professionals, business owners, and high achievers. She helps her clients to have "clarity" on what to focus on, the "confidence" to go for it, and an "action" plan so they have tangible steps to reach the best results.
Diane left the life of the 9-5 employee and simultaneously became an entrepreneur and mother. Now a mother of two, business owner, and community leader she considers herself an expert in change, work/life balance, efficiency, and prioritizing!
She has received many awards including:
• Top 50 Mom Podcaster 2 years in a row,
• Leading Mom Award Winner,
• Vancouver Top Mom Blogger,
• and "Women of Worth" Motherpreneur of the Year among others.
Diane's diverse experience enables her to have a deeper understanding of what it takes to achieve your best and live with more confidence and satisfaction. She believes we are not defined by our titles and our roles, instead we are more powerful and happy when we can be who we are. This brought out "Dynamic You", a book and a program, where she leads women to unleash the Dynamic Woman in them.
When speaking to groups ranging from 10-10,000+, on her podcast and in her Coaching, she teaches anyone who wants to increase their results, how to correctly plan out their business and life and increase their confidence.
Diane is interested in win-win joint ventures and speaking opportunities in which she and her partners can support each other's long-term goals.
You're invited to reach out to Diane and visit her website www.dianerolston.com
www.dianerolston.com https://www.facebook.com/LifeCoachDiane https://www.linkedin.com/in/dianercoaching/ https://twitter.com/DianeRCoaching https://www.instagram.com/coachdianerolston/ https://www.youtube.com/user/DianeRolstonCoaching
Let's Get started!  You'll find this helps you greatly!
You may also be interested in...
$300.00

$300.00

Dynamic Women® Global Club

Buy Now